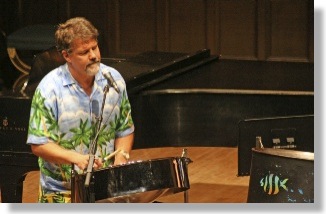 Provided photo
Feeling the music. Ted Canning will perform 6 p.m. Feb. 23 at Dansville ArtWorks, 153 Main St., Dansville. An open mic event will also be part of the evening.
On Feb. 23, Ted Canning presents his program Steel Drums in Dansville ArtWorks' Open Mic Performing Arts Series. The public is welcome to attend for free, listen to Ted perform on the Caribbean steel drum, hear about the instrument's history and learn how to play. Open Mic begins at 6 p.m. at the arts center and gift shop, 153 Main St., Dansville.
ArtWorks will host artists of various genres on fourth Fridays of each month through November. The series is made possible with funding from the Decentralization Program, a regrant program of the New York State Council on the Arts, which is administered by the Genesee Valley Council on the Arts at the Livingston Arts Center.
Canning, a percussionist and native of Cleveland, has done extensive freelance work in the northeast United States performing classical music, theater, big band and jazz. His world music studies and performances include Ghanaian, Haitian, Brazilian and Senegalese drumming in a variety of ensembles. From his start as a lead pan player and founding member of the Pandemonium Steelband of Wesleyan University, Ted now performs with the steel drum in the U.S. as well as in Europe and Latin America. He performs in numerous styles, from Caribbean dance music to new classical works. Canning was the steel drum soloist in performances in Siena, Italy, Mexico City, Mexico and at Carnegie Hall and Lincoln Center in New York City and has performed with the Rochester Philharmonic Orchestra. He has also performed with "Phase II Pan Groove" in Trinidad and Tobago, and with numerous steelbands in Brooklyn. Canning now leads the Panloco Steelband, and the "Steel Alchemy" Community Steelband.
Since 1993, Canning has been working as a teaching artist presenting performances, workshops and residencies in schools throughout Western New York and Pennsylvania. In addition to presentations of steelband and other world musics, he's used music to teach fundamental curriculum skills such as math, language skills, social studies, history and science, illuminating concepts to students and opening doors to other styles of learning.
Dansville ArtWorks Inc. is a nonprofit organization whose mission is to cultivate and enhance the visual, literary and performing arts opportunities in the greater Dansville community.
It is supported by community members and businesses and offers art workshops for adults and children, programs including Chalk Walk & ArtsFest and Fairy Doors of Dansville, and exhibition, consignment and performance opportunities. For more information, call (585) 335-4746, email dansvilleartworks@gmail.com or go online to dansvilleartworks.com.