Queen's Park Savannah Port of Spain, Trinidad W.I. (PRWEB) August 01, 2015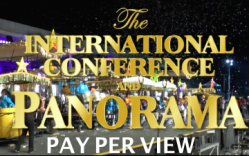 Calling all Pan lovers; at 3pm eastern on August 9th, 2015 the International Panorama Competition will be streamed LIVE direct from the beautiful twin Island of Trinidad & Tobago for only $9.99.
This historic event is brought to you by WackRadio901fm (http://www.wackradio901fm.com) in conjunction with ICP (http://www.icptt.com), Worldcast Live (http://www.worldcastlive.com) and Pantrinbago. So don't miss out, sign up now!
To purchase your front row virtual online tickets click below:
http://www.wackradio901fm.com/worldcast-live-stream.html
Forged out of the civil rights and identity struggles of a young nation, the steel pan remains the only acoustic instrument developed in the 20th century. The music and this versatile and organic instrument has spread far beyond the shores of Trinidad and Tobago over the past 100 years. On the island and throughout the Caribbean this instrument is referred to as "The Movement".
The International Pan conference which is being held between the 5-9th August will close with this international pan competition. This event will bring together participants from thirty-eight steel band playing countries from around the world competing against each other for the title of ICP Champions 2015.
Steel bands from Japan, England, USA, France, Canada, St Lucia, St Vincent and the Grenadines, St Marten and Jamaica will be competing for the grand price in this historic event.
Don't miss this opportunity to witness the live event, chat with friends, family and other pan lovers from around the world.
See for yourself why the Steel Pan has become a worldwide phenomenon across many countries. Join in and enjoy the sweet ,sweet sound of pan.