Michael Mondezie - Feb, 1, 2020
Trinidad Express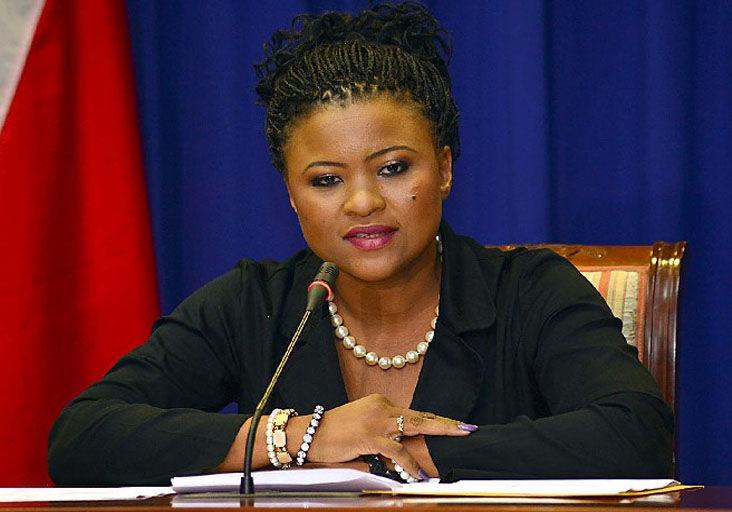 licks: Minister of Community Development, Culture and the Arts Dr Nyan Gadsby-Dolly.
Trinidad & Tobago, W.I. - Calypsonian Spicey (Tammico Moore) took Minister of Community Development, Culture and the Arts Dr Nyan Gadsby-Dolly to task over late Carifesta XIV artiste payments at the opening of Kaiso House calypso tent on Friday at the Queen's Park Savannah in Port of Spain.
Spicey compared Gadsby-Dolly, who sat in the front row at stage front, to a "smiling Cheshire cat" during a drop-jaw performance of her Carnival 2020 National Calypso Monarch contender "My Honesty".
The Marabella-born performer said the lack of communication between the ministry and artistes over the tardy payments brought out the "Ah-Soul in me".
She noted that she was paid by the ministry in late December 2019, four months after her performance at Carifesta.
She sang:



Just maybe I was AH-SOUL

Tuh work for Carifesta

I was proud to represent, time fuh payment

I get that late December

And not a call or an update from the Ministry

But Dolly smiling like ah Cheshire cat on my TV

But when ah hear de price of the cake

Right then is where mih honesty just awake.

....

Three months pass, I eh see no pay

Ah take mih honesty and I went down dey

Because in all honesty...Months, mih cheque eh ready

But Dolly dress up out dey, in she monthly salary

In all honesty...Ah know she can't take picong

She shoulda pay mih early na yuh doh end up in mih song

In all honesty...Show some respect

It simple, I perform, just bless mih with mih cheque

Is when ah gih dem mih honesty

That's when dey does see AH-SOUL in me
 ....The regional showcase was staged, for the fourth time, at venues across Trinidad and Tobago from August 16 to 25 in 2019.
The Ministry of Culture previously faced criticism over the purchase of a 32x40-inch $4,000 cake which it bought from Kiss Baking Company to celebrate the success of Carifesta.
A week ago, Trinidad Rio (Daniel Brown) attempted to voice his concern over the Culture Ministry's handling of Carifesta payments directly to the minister in front of a packed audience at the opening of the Back2Basics calypso tent at Roslyn Hall, Auzonville Road, Tunapuna.
Rio has since been paid by the ministry.
Gadsby-Dolly subsequently told the Express she found Rio's brief "intervention to be in poor taste".