The Love City Pan Dragons announce a fundraising event to be held from 5-7 p.m., Friday, April 6, in conjunction with Mongoose Junction's First Friday event.
The Pan Dragons, St. John's only steel band and a non-profit organization, will perform in the courtyard at Mongoose's main entrance throughout the evening while the shops and restaurants offer deals and fun activities. Volunteers will be on hand selling special Love City Pan Dragons T-shirts, bracelets and bumper stickers. They will also be accepting donations.
Funds are currently needed for air conditioners for the pan yard, parade trolley repairs, tuning the pans and for travel to performances and competitions. The musicians rely solely on grants and donations to keep the doors open to its members, who currently range in age from 7 to 70. In addition to teaching music, the band provides island youth with a positive structured environment, a safe place to go after school, and lessons on how to work together as a team.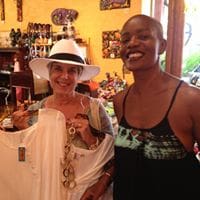 The band has been working hard on popular favorites like "Despacito" and the 2018 soca hit "Hello," as well as classics like "High Mas" and an original piece arranged by the band's instructor, Ikema Dyer.
Come enjoy the sweet sounds of steel pan and support this special organization. Those unable to attend in person can support the band by donating at www.paypal.me/lovecitypandragons. Follow the band on Facebook to stay up to date on its performance schedule; find them on YouTube to see videos of past performances.