Drum roll, please: The Wisconsin Youth Symphony Orchestras (WYSO) Percussion Ensemble will host its 17th annual Percussion Extravaganza on
Saturday, March 24 at 1:30 p.m. in Mills Concert Hall, located inside the UW-Madison Humanities Building.
The WYSO Percussion Ensemble, which consists of 14 student musicians from local communities — including two from Sun Prairie — will host this signature percussion benefit to help others.
For the second consecutive year, Ronald McDonald House Charities will partner with WYSO in the collection of tangible items of need for the Ronald McDonald House in Madison.
Nearly 60 performers, including Liam Teague, one of the world's greatest steel pan virtuosos, will present eclectic, global music dedicated to "Healing the Nations."
Sun Prairie High School student Lauren Rault and Cardinal Heights Upper Middle School student Kallan Engleson are part of the WYSO Percussion Ensemble performing during the Percussion Extravaganza.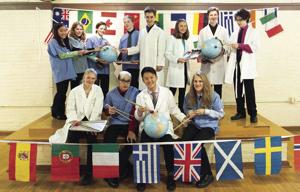 Percussion Extravaganza musicians
Participating musicians in the March 24 Wisconsin Youth Symphony Orchestra (WYSO) Percussion Extravaganza include Callan Engleson (back row, third from right) from Cardinal Heights Upper Middle School.
Other Percussion Extravaganza artists include Drum Power; UW Chinese Dance Department; flamenco dancer Tania Tandias; Zhong Yi Kung Fu Association; UW World Percussion Ensemble; and the WYSO Brass Choir.
For more information, visit www.wysomusic.org or contact the WYSO office at (608) 263-3320. Parking is available at State Street Campus, Helen C. White, and Grainger Hall parking facilities.