By Raffique Shah
January 11, 2018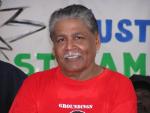 ...Except for the steelband component which is rising in spite of Carnival, every other aspect what was once the people's festival has been hijacked by the vultures, the mafia, call them what you will. A slick cabal of promoters controls the fete venues and the bands-in-demand. Mas' costumes, if they can be so described, consist of bikinis-and-beads made in China. The jarring excuse for music is mostly determined by a sounds-systems mafia. And the near-naked, whiter-shades-of-pale players are roped off from what is left of spectators by muscled slaves, sights, sounds and scenes reminiscent of worst excesses of decadent ancient and medieval empires.
And Government is using my tax dollars to fund this madness, this insult to my dignity? No! I protest! Up until around 2005, I was very much a carnival person. I made the rounds of calypso tents…until the art form declined and other than vintage fare, there was little to listen to. My lime attended a few fetes&until noise displaced music. And we were veteran street spectators, savouring the artistry of the great craftsmen, until they were booted out by strips of fabric that left nothing to exercise even one's imagination.
Only the steelband stood apart and aloof of this decay, and while Panorama and competition are important to pan players, the din of the DJs and general noise levels at Carnival time have all but chased the national instrument from the streets. I prefer panyard limes and concerts where bands perform their full repertoires, and where pan prodigies and virtuosos are at their best.
Because I am partial towards pan does not mean I am blind to the failures of the fraternity, especially Pan Trinbago. With hundreds of millions of State-dollars pumped into pan over the past 50 years, nothing can explain why the organisation does not own its headquarters and the biggest, most profitable pan factory in the world...