Jazz, R&B and 'sophistifunk': James Mtume's greatest recordings
From his Afrocentric jazz with Miles Davis and Lonnie Liston Smith to his chart hits for Roberta Flack and Stephanie Mills, we celebrate the best of the late musician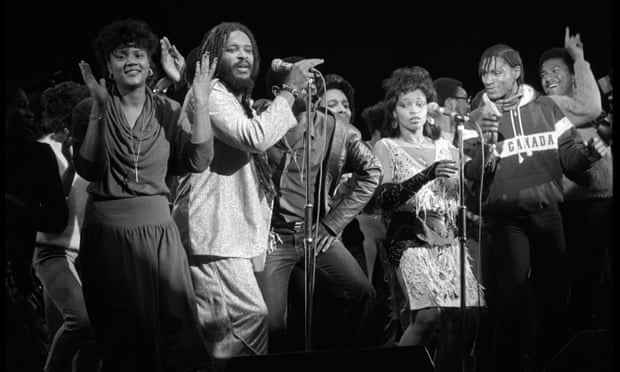 Mtume – Juicy Fruit (1983)
Mtume didn't endear himself much to the burgeoning hip-hop scene by lodly demanding in the late 80s that artists who were sampled got paid, but that didnu't seem to stop people actually sampling him: at the last count, Mtume's biggest hit – a ballad that stripped his sound back to little more than a drum machine, a synth, a scattering of guitar and some dubby echo – has been borrowed over 100 times, by everyone from Stetsasonic to Jennifer Lopez, but most famously on the Notorious BIG's 1994 smash Juicy. Wrigley attempted to sue over the title, before Mtume explained to their lawyers the song had nothing to do with chewing gum – "it's about oral sex" – an experience he later described as "one of the highlights of my life".
Miles Davis – Mtume (1974)
Mtume first came to prominence as percussionist in Miles Davis' early 70s band, which was still causing controversy decades later – for years, it seemed no Davis documentary was complete without someone, usually critic Stanley Crouch, decrying them as either a cluttered noise or a craven capitulation to commercial forces. It has to be said, there exist more obviously craven capitulations to commercial forces than the music on 1974's incredible Get Up With It, an album Mtume is all over. Listen to his congas fluttering, as one writer put it, "like bats" during the stunning, subdued, ambient-inspiring Duke Ellington tribute He Loved Him Madly – but let's go with the track named in his honour, which Mtume powers along.
Roberta Flack & Donny Hathaway – Back Together Again (1980)
Recruited for Roberta Flack's band, Mtume made it his business to reignite the singer's relationship with troubled duet partner Donny Hathaway, encouraging them to record his ballad The Closer I Get to You together. A huge hit in 1978, it paved the way for an album-length follow-up to 1972's Roberta Flack & Donny Hathaway, but Hathaway's erratic behaviour caused Mtume to temporarily abandon the sessions: hours after taping his vocal on Back Together Again, Hathaway returned to his hotel and killed himself. It seems extraordinary that such a transcendent, life-affirming piece of music could have emerged from such desperate circumstances, but Back Together Again is 10 minutes of euphoric disco glee.
Stephanie Mills – Never Knew Love Like This Before (1980)
As the 70s turned into the 80s, Mtume and songwriting/production partner Reggie Lucas – another former Miles Davis alumnus – transformed singer Stephanie Mills from a Broadway star, who spent five years in the cast of The Wiz, into an R&B chart regular. The four albums they made with her are packed with highlights – What Cha Gonna Do With My Lovin', Starlight, Two Hearts – but the commercial peak was the Grammy-winning Never Knew Love Like This Before: pillow-soft, lushly orchestrated mid-tempo disco, inspired by the birth of Lucas' first child. A few years back it was used, to heartbreaking effect, in the second series of Pose.
Phyllis Hyman – You Know How to Love Me (1981)
Before hooking up with Mtume and Lucas, Phyllis Hyman had worked with a succession of fantastic writers and producers – Skip Scarborough, Earth Wind & Fire's Philip Bailey and, on her heart-stopping sleaze anthem Loving You Losing You, Thom Bell. But the sound of 1981's You Know How to Love Me is the definition of what Mtume called his "sophistifunk" style: rhythms aimed at the dancefloor, "pretty melodies", a hint of jazz still lurking somewhere in the mix. It's a toss-up as to whether the title track or Under Your Spell is the best thing here, but if the former deserved to be a far bigger hit – which was pretty much the story of the under-appreciated Hyman's career – it nevertheless rightly became one of her signature songs.
Relevant content