BY KEVIN ALLMAN & KAYLEE POCHE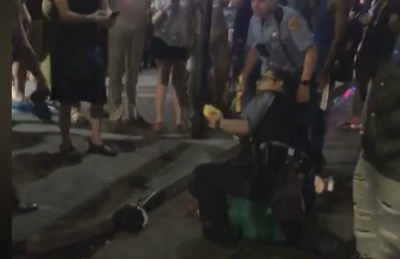 A screenshot from a Facebook video by brass band musician Christopher Henry shows police activity at the corner of Frenchmen and Chartres streets last night. 
Video of an altercation between Frenchmen Street brass band musicians and the New Orleans Police Department (NOPD) last night has gone viral.
The five-and-a-half minute cellphone video, shot by Facebook user Christopher Henry, shows NOPD arriving at the corner of Chartres and Frenchmen streets in response to a noise complaint by a local business, during which brass band musician Eugene Grant was arrested "for obstructing public passages and resisting an officer," according to an NOPD spokesman.
Several people in the video identify the owners of Frenchmen Art & Books as the people who called NOPD. The shop, which did business for decades as an LGBT and feminist bookstore known as Faubourg Marigny Art & Books under former owners Alan Robinson and Otis Fennell, was sold in March, according to its website.